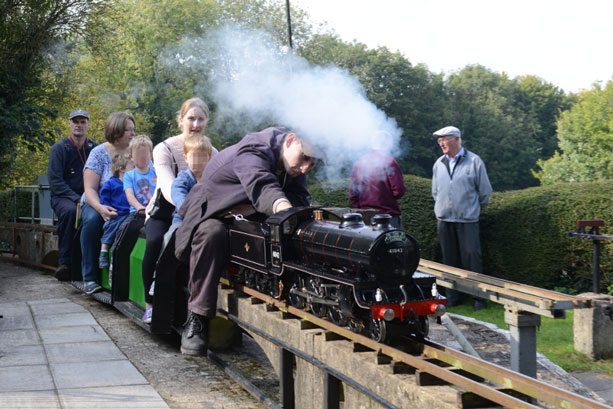 Thank you for visiting in 2018
It's hard to remember now, but the start of the year was very wet; we lost one running day and the planned weekend for our Miniature Steam Gala because of this. Then we had the glorious summer, with riders enjoying the cooling breeze from travelling in open air carriages as they did two circuits around our track. The running year ended on December 2nd in an appropriately miniature version of the year, with rain in the morning and long waits for passengers, to an afternoon where we had to add extra carriages to make a 4 coach train, and ran for 30 minutes after closing time to ensure that everyone got a ride.
Whenever you visited, we'd like to say thank you. It's your contributions through the fare box that make the whole enterprise viable (see what I did there?), and you've helped us buy a new locomotive, 'Neptune'.
We're closed now until Sunday 17th March. This gives us chance to get on with annual maintenance, and for members to make progress with their individual engine builds, or whatever else brought them to us in the first place. Maybe I'll have a boiler added to my ever growing model, but I fear it will still once again be in the static exhibition section of this year's Miniature Steam Gala.
Stay safe, look after yourselves, we look forward to welcoming you back this year.
---
Members' and Visitors' Running Days 2019
The club has running days where any member of the club can run their railway, traction or stationary engine at our facilities. The aim of the day is to run, enjoy, socialise and show models to other club members. Unfortunately these events are not open to the public due to restrictions on our insurance policy.
Members of other clubs are welcome to attend any member's day throughout the year. Boiler certificates will be required. Please get in contact if you wish to run from another club to let us know to expect you (and to make sure we have enough tea and biscuits).
Members day running is usually from about 10am to 5pm.
Month
Day
Event
May
12
Member Running
June
15
Visitors' Open Day with Fish & Chip Lunch
September
8
Visitors' Open Day with Fish & Chip Lunch
22
Member Running
October
12
Member Running
November
10
Member Running
Tuesday Evening Meeting 2019
Social club meetings are on alternate Tuesday nights at the clubhouse, and often have a theme or event. These meetings are for members only, although prospective members are welcome, please ensure you find a member and are signed in as a visitor.
Meetings run from 7pm to 9pm, with optional members running afternoon.
| Month | Evening of |
| --- | --- |
| January | 8, 15, 29 |
| February | 12, 26 |
| March | 12, 26 |

---
Any comments on the site should be directed to the webmaster other communications should be directed to the appropriate officer on the Contact page.
The B&DMES is a member of the Basingstoke Roundabout - which supports and encourages local clubs and businesses in the Basingstoke area. Click on the 'Next' link to randomly visit another Basingstoke member's website.